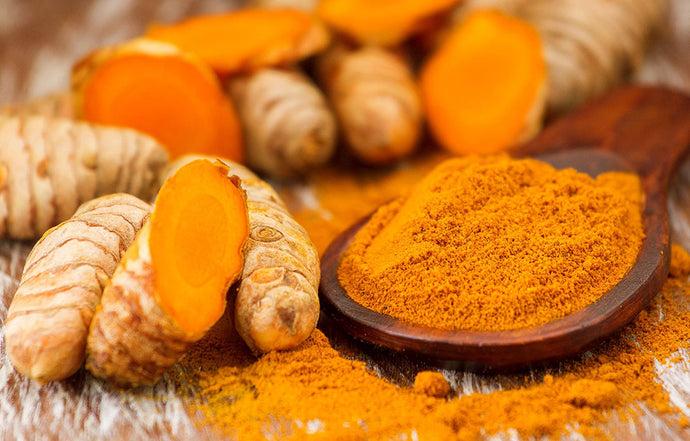 Turmeric: Health Benefits, Uses, Doses and Side Effects
Turmeric is used for several health conditions including pain and inflammation, low immunity, viral and bacterial infections, cough and cold, osteoarthritis, allergy, and high cholesterol. Other turmeric benefits for health include relief from joint pain, IBS, various cancers and other numerous conditions.
Turmeric has been used in Ayurveda to successfully cure allergies, colds, lung infections, itchy skins, menstrual problems, and breathing problems like bronchitis asthma. In several clinical trials and studies, turmeric has shown its potential benefits in recovery after surgery and cancer.
What Is Turmeric?
Turmeric is the commonly used spice in Asian food. It is the spice that comes from the turmeric plant. Turmeric has a warm, and bitter taste, and an earthy mustard-like aroma. It is mainly used as spice in curry. Turmeric is a herbaceous plant, its roots are used to make medicines. Turmeric contains yellow-coloured chemical curcumin that has several health benefits. Besides, it is also used for colouring foods and cosmetics for skin care.
Turmeric Benefits for Health
Turmeric is the most widely studied herb. Curcumin is the main compound of turmeric that has proven health benefits. Read on to learn more about the turmeric benefits for health and how it helps fight various types of infections.
Viral Infections – Curcumin can help you fight off a variety of viruses. The anti-viral activity of curcumin is observed against different types of viruses, including hepatitis viruses, influenza viruses, zika viruses, and chikungunya viruses. Interestingly, curcumin molecules are also reported to inhibit herpes viruses, human immunodeficiency viruses, and human papillomaviruses. Its antiviral activity disrupts viral infection progress via multiple mechanisms. Curcumin directly targets protein cells of viruses, inhibiting its gene expression, and replication of viruses. It also heals the wound rapidly and thus prevents viruses from entering into the body.
Antibacterial – Curcumin in turmeric has strong antibacterial effects. It can reduce the growth of many disease-causing bacteria. According to a study, turmeric inhibits strains of four genera of bacteria, those are Staphylococcus, Streptococcus, Helicobacter, and Pseudomonas.
Antifungal – Another study on turmeric confirms its antifungal properties. It exerts antifungal effects at higher concentrations. Curcumin is the most effective antifungal against two Phyto fungus namely Fusarium solani and Helminthosporium oryzae.
Anti-Inflammatory & Analgesic – Curcumin shows anti-inflammatory analgesic effects by working of Arachidonic Acid pathway by suppressing the COX1 & 2 & LOX activity. It has been widely used to treat pain and inflammation due to various joint disorders and other causes.
Antiallergic – Curcumin helps in stabilizing degranulation S of mast cells which releases histamine that is the mediator of Allergic symptoms.The effectiveness of curcumin in allergy and asthma has been further investigated using a murine model of allergy. The results indicate a marked inhibition of allergic response in animals treated with curcumin suggesting a major role for curcumin in reducing the allergic response.
Uses of Turmeric
 Turmeric is used to treat skin conditions, pain, bruising, eye infections, leech bites, wounds, arthritis, and many more. Here are the health conditions when turmeric is used as an effective treatment.
Fever – Taking curcumin can reduce the symptoms of fever like runny nose, muscle ache, irritability, sneezing, and congestion. The most common causes of fever are infections. The antimicrobial activity of turmeric helps fight infections and thus reduce the fever symptoms.
Depression – Scientists are excited about turmeric's effectiveness in neurological disorders. According to research, taking curcumin reduces symptoms of depression in people already using antidepressants. Scientists are excited to see curcumin's potential activity against depression and its ability to help antidepressant work better.
Diabetes – Curcumin keeps the blood sugar level steady and taking it can prevent diabetes in people with prediabetes. Here is a systematic review of the role of curcumin in the treatment and prevention of diabetes and its associated disorders.
High Levels of Cholesterol – Study reveals that curcumin may be effective in lowering blood fats called triglycerides. Scientists look into the possible effect of turmeric in lowering cardiovascular risk factors in patients.
Osteoarthritis – Taking turmeric extract alone or in combination with other herbal ingredients can ease joint pain, stiffness, and improve knee function in people with Osteoarthritis. In a study, turmeric worked similar to ibuprofen in reducing arthritis pain.
Itching – The golden spice turmeric has been used for the treatment of skin disorders for centuries. Daily intake of turmeric for 8 weeks has been found to reduce itching in people with kidney disease. Also, in a clinical study on 150 people with eczema, using turmeric containing cream resulted in the decrease of skin scaling and itchiness respectively.
Weight Loss – Turmeric may enhance your effort in losing weight. After 30 days of curcumin trial on a group of 44 people with metabolic syndrome, each member of the group lost 5% of their body weight and 8% of their body fat. Here, you should know that metabolic syndrome is a condition characterized by obesity, high blood pressure, high blood triglycerides, low level of LDL, and insulin resistance.
Turmeric consists of more than hundreds of compounds. Among them, the most active compound is curcumin that is credited with most of the health benefits. Results of clinical trials suggest that turmeric may be effective in asthma, memory loss due to aging, blood disorders like beta-thalassemia, and many other conditions. Read on to learn how curcumin can help you to improve the quality of life in some other health conditions.
Gingivitis – The antimicrobial and anti-inflammatory properties of turmeric makes it a useful herb for dental care. One study shows that curcumin in turmeric can prevent gingivitis or gum diseases. It is a good choice for oral hygiene because it can remove plaque, bacteria, and inflammation better than oral mouthwash.
Asthma – Using turmeric in addition to usual asthma treatment can help in improving the airways obstructions thereby reducing the need for inhalers and nighttime awakening. Here is the study that supports curcumin capsules as add-on therapy in patients with bronchial asthma.
Tuberculosis – A new research indicates that curcumin may help fight drug-resistant tuberculosis. The cell culture study reveals curcumin promotes a form of cell death. This cell death presumably kills the tuberculosis organisms inside the cell.
Cancer – In many lab studies, curcumin has shown its potential effect against cancer. It targets only cancer cells, leaving healthy cells unaffected. Another advantage of using curcumin for cancer is that it can kill different types of cancer cells in multiple ways. According to a 2008 study, higher doses of curcumin can help fight pancreatic cancer. Also, the cancer cells are less likely to become curcumin resistant because it uses multiple ways to target them.
Irritable Bowel Syndrome or IBS – Some early research suggest that turmeric could improve IBS symptoms such as abdominal pain. With its anti-inflammatory, antioxidant activities and its ability to modulate gut microbiota, curcumin is potentially useful for managing IBS. It can also improve mood disorders associated with Irritable Bowel Syndrome such as stress, anxiety, and depression.
Alzheimer's – Curcumin has been found to maintain cerebral vessels, mitochondria, and synapses and reduce the risk of Alzheimer's disease. However, large-scale human studies are required to establish the therapeutic effect of turmeric in patients with Alzheimer's disease.
Curcumin has obvious benefits for longevity, it helps prevent heart disease, cancer, and Alzheimer's. In recent days, turmeric supplements have become a popular anti-aging medication.
Nutritional Value of Turmeric
A tablespoon of turmeric powder contains 0.91 grams of protein, 0.31 grams of fat, 2.1 grams of fibre, 6.31 grams of carbohydrates, 0.3 grams of sugar. In addition to this, it also contains minerals like manganese, phosphorus, and potassium and offers nearly 29 calories of energy.
The same one tablespoon of turmeric provides 3% of daily vitamin C, 5% of daily potassium, 16% of daily iron, and 26% of daily manganese needs of our body.
Doses of Turmeric
The average Indian diet provides 2000 mg – 2500 mg of turmeric that offers 60 mg – 100 mg of curcumin per day. However, in clinical trials and studies, 500 mg – 2000 mg of turmeric is typically used per day. Also, the curcumin concentration in clinical trials and studies are much higher than the amounts naturally occurring in foods.
While there is no official consensus of effective curcumin or turmeric doses, the following doses have been used in research with good results and minimum side-effects.
For itchy skin – 500 mg of turmeric extract, 3 times daily for 2 months.
For osteoarthritis – 500 mg of turmeric extract, 2 times daily for 2-3 months.
For high cholesterol – 700 mg of turmeric extract, 2 times daily for 3 months.
The World Health Organization has laid down that 1.4 mg per pound (0-3 mg/kg) of body weight is an acceptable daily intake of turmeric or its compounds. This amount of turmeric extract is safe and tolerable in the majority of users looking to reduce various types of disease's symptoms and improve overall health.
How Does Turmeric Work?
Turmeric has several medicinal properties. It has antioxidant, anti-inflammatory, and antimicrobial properties. Curcumin in turmeric works for various types of infections and diseases in different ways. For instance, in people suffering from rheumatoid arthritis, curcumin blocks the action of inflammatory molecules.
Another way curcumin works is that it can neutralize free radicals from the body and also boosts the activity of the body's own antioxidant enzymes.
Also, turmeric can help heal wounds quicker. The application of turmeric paste works best in accelerating wound healing. It reduces your body's natural response to cutaneous wounds such as oxidation and inflammation and enhances granulation tissue formation, collagen deposition, tissue remodelling, and wound contraction.
Besides curcumin, turmeric contains hundreds of compounds. Molecules in these chemical compounds work for various health conditions in several different ways. Numerous scientific research and clinical trials are being carried out throughout the world to identify turmeric benefits for health and usefulness for critical health conditions.
For daily consumption, people use turmeric powder but you can buy curcumin capsules for supplementation. One of the main advantages of turmeric is that it takes only 4-8 weeks to notice visible results. However, the result may also depend on factors like age, body mass, other medications, and severity of the disease or condition.
Also, the best time to take turmeric varies according to the individual's needs. It is recommended to take turmeric with food rich in healthy fats for better absorption and optimum result.
Facts About Turmeric
One of the problems with turmeric is that they have low bioavailability because it is less soluble in water. The human digestive system is more like a watery system which makes it difficult to absorb turmeric molecules. However, curcumin is lipophilic which means they are soluble in fat. We can help the body absorb curcumin by mixing it with healthy fats. The curcumin will bind to the fat and then easily get absorbed by our intestinal gut.
What Are the Side Effects of Turmeric?
Turmeric or curcumin generally doesn't have serious side-effects. It has been widely used for hundreds of years and is well tolerated. However, some people might experience mild side-effects like stomach upset, nausea, dizziness, and diarrhea. Read on to learn how people may experience its side-effects.
When taken orally – Taking turmeric orally is safe for the short-term. Consuming curcumin products by mouth for 2-3 months does not cause any serious side-effects.
When applied to the skin – Turmeric is safe when applied to the skin. Turmeric mask or face-pack has been used for years without any side-effects. It is also safe to apply curcumin-based products like Snec30 gel inside the mouth.
Safety, Precautions & Warnings
Although consuming turmeric in food is safe, you should keep a gap of 1-2 months, if you are taking it as medicine. There might be an increased risk of side-effects in people with certain medical conditions. Read on to learn when you should take special safety, and precautions while consuming turmeric.
Pregnancy and Breastfeeding – It is advised not to take a medicinal amount of turmeric if you are pregnant. In a clinical study, curcumin successfully reduced endometrial cell proliferation in endometriosis by reducing estrogen production. It is also believed that turmeric stimulates blood circulation and enhances milk production in breastfeeding mothers. However, they should always consult an Ayurvedic physician before taking curcumin supplements while breastfeeding.
Gallbladder Problems – Turmeric can increase bile secretion worse. Do not consume it if you have gallstones or bile duct obstructions.
Bleeding Problems – People with bleeding disorders should take turmeric with care, it can slow or stop blood clotting.
Gastroesophageal Reflux Disease (GERD) – In some people, turmeric is found to make acid-reflux worse. Taking it for a long time may worsen the symptoms of GERD.
Hormone-Sensitive Conditions – People with hormone-sensitive conditions like breast cancer, uterine cancer, endometriosis, ovarian cancer, or uterine fibroids should consume turmeric or curcumin supplements with caution. Curcumin might act like estrogen and make the hormone-sensitive condition worse.
Iron Deficiency – Do not take high amounts of turmeric, it might prevent the absorption of iron. According to a study, turmeric has been found to inhibit iron absorption by 20%- 90% in humans.
Before and After Surgery – Turmeric can slow down blood clotting. Avoid taking turmeric in food or supplement before or after surgery as it may cause extra bleeding. Stop using turmeric at least 2 weeks before having surgery.
Why Should You Buy Snec30 Curcumin Capsules?
True benefits of turmeric go unexploited due to its poor bioavailability. The answer to this problem is Snec30 capsules. Self-nano emulsifying curcumin capsules are highly bioavailable formulations that enable rapid and increased absorption of curcumin into the blood.
The curcumin in Snec30 capsules dissolves in the lipid system which converts into an emulsion in the stomach, allowing its complete dissolution and rapid absorption.
There are many advantages of turmeric for your body. Regular intake of curcumin capsules helps reduce inflammation, cleanse toxins from the body, and strengthen the immune system to fight against infections and diseases.
Taking it 7 days before the menstrual period and continuing for 3 days after the period ends can reduce pain, and improve mood and behavior in women. The right intake of curcumin helps protect brain cells and also improves the appearance of skin.
Buy curcumin capsules online to boost your immunity and reduce inflammation. We provide high-quality Snec30 curcumin capsules in India at the most affordable price. Visit our website for the latest update on curcumin products, offers and discounts.